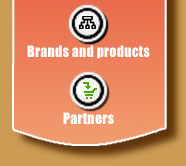 Welcome in our network place



Our Company J. LOURAKIS COMPANY

Ο

.Ε

.

has 18 years of experience in the sector of spare parts, accessories, lubricants and electrical parts of car and trucks.





We import the 80% of the products that we are selling from 14 countries, from all over the world, and we distribute them all over the Greece as our target is the more rapid service of our customers and the more competitive prices for our market.

Below, you can seek parts for anyone type of car, as well as parts of various applications:


Car's Parts

Other Applications

If you search for any part in our site but you cannot find it, I request you contact us.